Sinet Spark has launched its new football project for children from small towns on 25th of March. Arsen Tomsky gave a large interview to a leading Russian sports site "Sports.ru" which is "Spark" project's partner.

The concept of the project.
In small towns of Russia and Kazakhstan, where the population is from 10 to 50 thousand people, football clubs for boys and girls will be opened. "Spark" is ready to build football fields from scratch as well as rent the ones that already exist there. There isn't a dogma of the result, the coaches do not shout at kids for their failures and the most important is the atmosphere of joy and satisfaction during the football training sessions. The fields will be of a medium size, 40*20 meters each, so that kids can dribble more often.

"Spark" project is to be working in those towns, where enthusiastic coaches can be found. For those who are ready to work with the kids, it is not compulsory to have special qualifications in a football field, because there will be special training for future coaches.

If you are ready to be a football trainer and want "Spark" to be presented in your town, fill in the application form. The applications are admitted from April 25 to May 20.


The aim of the project is to make kids in small cities happier. This is exactly why there will be no shouting of coaches and winnings at any cost.

Vladislav Voronin (Sports.ru):
-I read your book about life and business, but I didn't see that you mentioned football there. At the same time you are about to launch this big and complex project. What kind of place does football have in your life?
-I started to watch football when I was 16. It was the 1990 World Cup in Italy. Football excited me so much, and I had been following it for like five more years. I even created a software which could predict the future score. But then eventually I lost interest in football, because the Russian team did not succeed that much. So I stopped watching. I love playing football, but I am not that good at it, unfortunately.



– What kind of software was that?
– I just had interest in that. Like a hobby. I created quite a lot of such applied things. I inserted the statistics there, the results of the matches between the teams, and if that's going to be a home match or away match. That program was supposed to consider that data and predict the results, what score both teams would have. There were no complicated algorithms, but apparently the program gave quite precise predictions on the score.
– Did you use it as a totalizer?
– No, no, not at all. I didn't even know if there were totalizers at that time. I wasn't interested in money that much back then. I am a typical IT guy, you know, a programmer.
– Do you support any team at the moment?
– I don't have a favorite team, but if there is a possibility I love going to football matches. I love the atmosphere in the stadiums. Sometimes you have to let go of the routine, because there are instant thoughts in your head, and one task comes after another, you think about it all day long, how to improve things. Stadiums are a great place to effectively let go of such a state. Last time that I visited a match was a baseball game, it was okay, but football is much more interesting.
– How did you plan a football project if you have nothing to do with football?
– If you want to make an outstanding story, you need to have sources of strength. This story is not an investment story, it's not a business, it's not networking. This story is psychological. You need to have meanings, meanings give inner strength, and not only to yourself, but also to those who work with you, especially core-team (top management – Sports.ru ). That is, I am eventually constantly looking for these meanings.
One of them is to help people like ourselves. We call ourselves underdogs. The closest translation to Russian in meaning is 'dark horses'. These are those who were deprived of access to knowledge, expertise, connections, money and, despite this, were able to make a great story. We decided to help underdogs from remote places. We focus on socially unprotected regions, like Yakutsk or Chile, Egypt, Indonesia. Even in countries like the USA, there may be such people too. We want to help them in every sense. We have several non-profit programs.
For example, Begin IT is a project of teaching children from remote rural schools and orphanages the basics of programming. We give children a chance to enter the IT sphere. Over the years of the program's existence, 127 schools and orphanages have already joined it. A program in the field of art is being prepared. It is somewhat similar to the Begin IT Smart project. Not only children will be taught there; everyone who is interested will be able to listen to leading IT specialists for free.
In the intellectual sphere, I think in five years we will create a large digital university, a university that will be some kind of an Anti-Stanford, where capable children will be able to access the best knowledge for little money or even for free.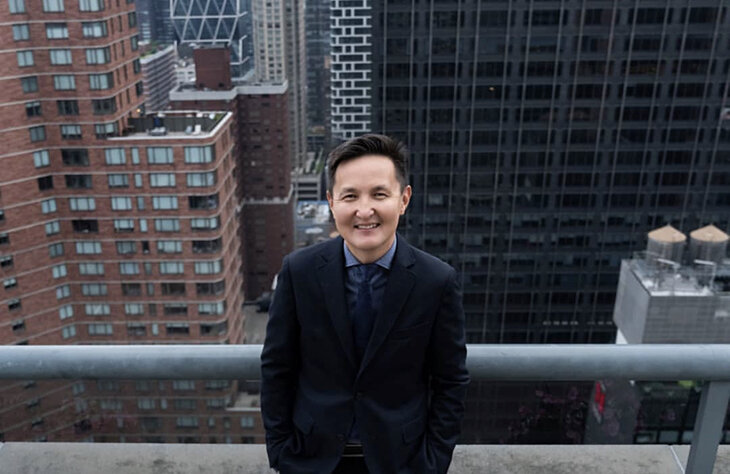 – Is it going to be a digital university?
– Yes, a digital university, with the use of VR, AR, holographic technologies, we will try to recreate the effect of presence. The strongest teachers will be able to be here, next to you.
So, one of the directions of development is sports. We want children to gradually get involved in physical activity. I decided that it was worth starting with small settlements, in Russia, with a population of 10 to 50 thousand inhabitants, where there is often a very depressive situation and there is almost nothing for children. After all, there are a lot of things in the metropolis. But in small towns there is nothing to do, with all the consequences: alcoholism, drugs and things like that. We decided to bet on football, because it is, after all, the number one sport around the world.
– Let me just make sure, there are no aims like obtaining some specific results, but more important is the atmosphere at the lessons, right?
– There are two aims. First one is to make kids in small towns happier. Second one is to involve them into sports, so that they will be on close terms with sports. I think it would be great.
I myself had been avoiding sports for a long time, and only when I was 25 I started to do sports. It would have been so cool if somebody had involved me into sports earlier, when I was like 10 or 12.
If strong professional athletes come out of that project later, it will be good. But we do not set such a goal. In my opinion, if you set such a goal, it can break someone's fate: children will think that they will become athletes, but, as you know, a very small percentage achieve success and start earning good money. This will be some kind of a side effect: anyways if we make some kind of network, for example, several hundred sites, capable children will probably come out of there too.
We want to conduct a test, an experiment, and then evaluate how effective this approach is. In general, we always do tests in our team.
If the project arouses the interest of children, we will go further.



– What would be a success for you?
– We are in the process of discussing it now. Perhaps we will set some exact KPIs, but maybe not, and we will evaluate it subjectively.
The main criterion is to try to measure whether children are becoming happier. I don't know how to do it. Maybe we will use a methodology like NPS (customer loyalty index in many areas of the economy, for example, the index evaluates whether the buyer is ready to re–purchase a particular product/service - Sports.ru), we will make a modified NPS. We will definitely conduct an interview with the children and listen to what they think.
We'll see how easy it is to find these semi-activists, as I call them. We will pay coaches who work part-time, some kind of scholarship. I think 15 thousand a month for several classes a week. In small settlements, this, in my opinion, will be quite interesting. I hope this will attract those who are really interested in the project, and not just those who are interested in money. Plus, it is important to understand how coaches are ready to adopt a new training methodology. We want to teach them new approaches.
The next factor is how much the municipalities are going to support the project, whether they are interested in it, whether they help to choose places where you need to install a platform, if there is none. We will then leave them these sites for free. Will they monitor those sites? Will these sites become objects of vandalism? These are probably the main criteria.
– You have many thoughts about the team in your book, how important it is to select people of the right mentality. In football, a lot depends on the coach. What kind of approach will you have when choosing a coach? After all, there are a lot of old–school coaches now, for whom the main thing is to win at any cost.
– The fact that they are now behaving in this style is quite understandable. Maybe the motivation system is built incorrectly, how much money the coaches will receive depends on their sporting success. Accordingly, they freak out if they see that their subordinates are starting to lose. They see how their personal money is flowing away, it is understandable. Also no one brings to them the idea that it is not worth communicating in this style. I have quite high expectations from the head of our project, Anna Fedorchuk, she will be able to set up a system for searching and selecting a new type of coaches. So far, to get into the project, you need to fill out a questionnaire and record a video, I think the choice will be more intuitive. Most likely, they will be younger and more flexible in their approaches, while they may not even have a coaching education, because we will train them.
For us, the main thing is that there is no psychological pressure.
One of the topics that I want to do in the future is to create a foundation or a non–profit program to protect children from domestic violence. It could be psychological violence and not only at home, then there will be a lot of intersections with sports. This has a very high value, in my opinion. If a child gets a psychological trauma, it can stay with him forever, for his whole life. There is such a psychological phenomenon that a person experiences trauma again and again and it always remains fresh.
We need an atmosphere of mutual support and happiness. It is important.



– Do you have an understanding why football coaches shout at children so much and why they are so afraid of mistakes? Besides all the pressure depending on the result. It seems that in sports this is just a manifestation. In our country we in general are afraid of mistakes more than we should be.
– In my opinion, the peculiarities of national culture are important here. I see it clearly when I arrive in Moscow. Just now it was "Could you please", and then "We are passing, we are not lingering." Ha ha! You immediately think: I'm here!
It is necessary to somehow bring warmth. In Russia, people can be incredibly warm, if they know each other well, they can communicate very closely. When they don't know each other, they can behave quite toxic. It matters, you will need to be able to work with it. Sometimes you hear somewhere, for example, in Turkey by the sea, that someone starts shouting at children. Very often it turns out that these are immigrants from the former USSR. Almost nowhere else is there such a thing in communication with children. This is one of the features. I do not know if this is bad or not, but probably we will have to try to reduce it here.


The fields will be covered with domes that retain heat. Tomsky dreamed that they would make Yakutsk warmer at -45 degrees, but everything turned out to be more complicated

– You are ready to build new football grounds. How many will there be in the test year 2022?
– There will be six settlements in total this year. In three of them we are ready to build sites, in half of them we will remove the existing ones. We want to evaluate the effectiveness of both approaches and determine how to go further more effectively.
Within 5-7 years, we are ready to build several hundred sites. I am ready to invest a significant amount of money. We will start with Russia and, possibly, Kazakhstan, then we will expand the project to other countries. As a result, I hope to make a global project in 5-7 years.
– Will the fields be covered?
– We think it's better to make covered fields in Russia. Snow falls almost all over the country.



– Are those playpens or other structures?
– We want to do some tests, but most likely it will be inflatable domes and canopies. There will be an artificial field, perhaps we will put additional innovative equipment for training.
We don't want to make the sites large, about 40 by 20 meters. This is done because of two purposes: the first is so that the sites are not very interesting for adults, the second is that it is cheaper, so that we can put as many sites as possible. If you make the site twice as large, then the cost will be higher not twice, but five times. This is offhand, the main thing is that the increase in price is not proportional to the increase in the size of the field. That is why we will focus on relatively small sites.
– Will sanctions be some kind of an obstacle? There is a problem with fields in Russia, almost all high–quality ones are foreign.
– I don't know yet. I assume that we will face this. We will think about what to do.
– The dome you're talking about is from your project in Yakutia?
– Not really, but there is a connection. In Yakutia, we put a geo-dome over an ordinary house. In winter, it really got warmer there, for example, when it was -45 outside, it could have been -28 in the dome, because the house is still a source of heat, heat leaks from it. I thought that if the system is effective, we will put even more domes, and eventually we will put a giant dome on the whole neighborhood. Then, artificial sun and things like that, children can go out for a walk.
Unfortunately, it turned out that in the summer the ice under the house begins to melt very actively. After all, we have ice under a thin layer of soil, and if it melts, the house will gradually sink into the ground. That is why you have to think of the protection, and this complicates the process. While we do not know what to do next, we will think.
But from all this experience, the idea of using such domes on sports grounds organically appeared. There will no longer be geo-domes, with a size of 20 by 40 meters, there will not be an ideal sphere.



– Listening to all this, I remember your story from the book about the attempt to make a technopark on the basis of the Yakut University. You helped the university get a grant, but then the project stalled, and you called this process a "marmalade swamp", when people smile in your face, but do not give the project movement and drown it in bureaucracy. Aren't you afraid that this will happen again with sports municipalities? That your sites will also fall into the "marmalade swamp"?
– The playground will still need to be monitored so that no one does anything to it. We will make them unheated on purpose, so that there is no need to allocate a separate budget. But it's still necessary to find a suitable place for a playground somewhere, maybe it will be a local enterprise with access for children, maybe a school. I am worried that if you put the playground cleanly in the park or somewhere else, it may be broken.
Here, the difference from the situation with the Yakut State University is that there are many of these municipalities. And we have to find an approach to sort them by the degree of real interest, and go from top to bottom. Here you need to make sure how to find out that the municipality is really interested. We will be able to establish this only in the course of experiments. And here we are bound to have some setbacks. Some sites will be written off, I think.
But that's okay! Gradually, the necessary experience will develop.
– You also say that in Russia a lot of attention is paid to how to do something, but little is why it is important to do it, although this is a higher level of motivation. I see this problem in football, not everyone understands the goals here, although big money has come into the industry for almost 20 years. Why has the culture of motivation not developed during this time, in your opinion?
– You know, I'm not an expert. But I can assume that the system of training children is ineffective. Something is wrong in the system of identifying capable children. Maybe there are not enough sports grounds. In the training system, maybe we should focus more on intellectual football.
The events in the news feed, in my opinion, show that maybe sometimes the values are not quite right. As in many other areas, there is a very strong hyperconsumption. If you achieve outstanding achievements, you always need to look for an intangible base, some meanings, sources of strength. That's probably the only thing I can say. But I'm not that good at topics like this.
I can tell you about my motivation. I am launching a big project, it will take a lot of money in the next 5-7 years. Accordingly, I have a need to succeed in my main field. It gives me extra strength. You create a certain meaning, children need to be made happier, and this gives you the strength to achieve success in your field. A very simple and super efficient scheme.
Many meanings – many sources of strength. I do this not only for myself, but for those who are with me. Someone will get hooked on something, and someone will not. The more, the better. The guys see that their CEO does such things, and it also inspires them, gives them strength. I don't buy villas and yachts for myself, which, in my opinion, is stupid now, it's much more interesting to launch such things.



– Have you already contacted the RFU?
– Throughout my long-term entrepreneurial career, I have concluded that it is not necessary to depend on anyone at all. It is always better to do everything on your ownб in the way you yourself consider effective. We will avoid partnerships with anyone, we will do everything on our own, while, I hope, we will maintain positive relations with everyone. This project does not compete with anyone, does not set any commercial or political goals.
By the way, the head of Iskra, Anna Fedorchuk, works in the RFU. But this is pure coincidence.


The businessman calls himself not a patriot, but an innovator. His favorite project is an application that will help stutterers speak without stuttering through whisper conversion

– You said that the situation in small towns is depressing. What unites those towns?
– There is usually a weak economy there. Very often, such settlements depend only on budget revenues, there is work only in budget organizations. Either they depended or still do on monopreprises, which is also not a very positive factor. Often there are significantly lower salaries. Another factor is that all passionate people who want to achieve something are leaving. Often there you can find problems of alcoholism. Many of the cities are not in favorable climatic conditions, it happens that there is snow for 9 months. And all those kinds of things.
Everything leads to the fact that it is difficult to live there. And there is no alternative: sections, playgrounds. People are forced to stay at home. Not cool, in general.
– Can you compare this description with the atmosphere of the 80s, your childhood?
– Very different, it was the time of the Soviet Union. The work with children was well organized, there were many sections. People still had a sense, an ideology, and it gave them solid ground. And now it's as if there is no such ground. Somehow it all comes down to the culture of consumption. Everywhere is money-money-money. And this is a very weak platform. In my opinion, this is a rather significant problem. Children feel it too.



– You have stressed several times that you are not a patriot, but an innovator. Can you tell us in more detail what you mean by this word?
– In order to reach significant heights in life, you need to know who you are. To understand what your life identity and mission are. I was looking for this and found out that I am an innovator, a person who is constantly developing himself and developing what matters to him. It turned out that this is suitable for our entire company, we are a team of innovators.
This is the only label I agree to. We are not philanthropists. We are not kind white and fluffy. We are not patriots. I refuse labels, because once you take them, someone immediately tries to manipulate you: "If you are a real patriot, you should do something." No, we know what to do, what is of high importance to us, we don't owe anything to anyone. It gives freedom.
– Do you often encounter an aggressive misunderstanding of this position?
– No, not really. People, in general, are calm, because they see that, although we do not agree to take on these definitions, we do a lot of things that benefit people. It's much better than beating your chest, declaring that you're a patriot, and actually doing nothing much, right? People usually look at actions.
– What is your favorite non-profit project?
– Now I am very pleased with the startup that we launched about a year ago. I decided that it would be more stable and efficient in the form of a regular startup, but for me it is a non-profit project. It's a machine learning–based technology that helps people with stuttering, people like me.
We use the fact that when a person starts whispering, he doesn't stutter (or when he starts singing). For example, we are using a zoom conference, and I can start whispering, and you hear not a whisper, but a normalized speech, without stuttering. I think it's super cool.
Now we have received the first working prototype. It sounds a little unnatural so far, but it seems to me that this is just a miracle. I'm starting to feel like Nikola Tesla of some kind! So cool!
If I achieve my goals in the main business, then every year there will be more and more opportunities to do such amazing things. It is very interesting.



– One more thought about Russia. Fossil resources are either finite, or in the long term they are under threat of declining demand, you say that it is necessary to develop the technological and cultural potential of the regions. Why don't they think and talk about it everywhere?
– People generally have a feature of living one day. Few people think what will happen in a year or two, but here we are talking about what awaits us in 20 years, for example. But still, we need to think and do strategic things. Our company has a stage when we come to global activity, while in Yakutia, I hope, we will continue to make a significant contribution. A lot has already been done.
If seven years ago there were no more than 5 IT startups in Yakutia, now, as I was told, there are over 100 of them there. There is a boom going on, including because of what we have done. People see that the same IT specialists, the same ordinary residents of Yakutsk, like them, have made a great story. They realize that this is quite real. It seems to me that showing an inspiring example is even more effective than creating investment funds and accelerators.
– You give money for Yakut cinema. Why does this seem important to you?
– There are two reasons here. One is that a unique phenomenon of Yakut cinema has developed. In fact, this is the only region, except Moscow and St. Petersburg, where 10-20 films are shot a year, and almost all of them pay off. Recently, they have also begun to win the Grand Prix of such festivals as Kinotavr and the Moscow International Film Festival. The next stage, I hope, is that we will start winning at global film festivals. Accordingly, there is a desire to support this phenomenon, so that Yakutia can export an intellectual product.
The second is that no matter what you do, no matter how much money you invest, you alone will not do much; a strong effect can be achieved if you inspire a lot of people to do something. Such things can be shown through art. The idea is to push people to develop through cinema. Because of this, we do not support purely entertainment films, we need them to have some meaning.


What is the thrill of surfing (even if your car can be sprinkled with sand) and how to run a marathon with an injury

– I myself really like sports, for example, running. I try to run four times a week. I've run two marathons. In the USA I got involved in such a cool sport as surfing. I like not only the moment when I jump on a wave and go, but even when you're just waiting, you're sitting, and there's the sun, sky, ocean, it's incredible. But technically it is a very difficult sport, especially if you are not 20 years old. It took me six months to master it, to get up on a wave and ride sideways. And it's also a longboard, not a shortboard, which is more complicated.
How long I can go depends on the type of spot. Where there are long waves, you can go for a long time. But there are not very many such spots. They're mostly in Hawaii.
– How often do you manage to surf?
– In this sense, 2020 was ideal, when there was a covid. It was just possible to live there all year. Now I surf maybe three times a year. There are places here in San Francisco, too, but it's a little different after all. The ocean is very cold. You have to go south.
– What is the most difficult thing about surfing?
– It's hard to get up. You fall endlessly. All movements must be done very precisely. It is incredibly difficult to choose where to wait for the wave. If you go a little sideways, it's not the same. Plus the rest of the people are waiting too. There is a whole unofficial etiquette, who can get up now, who can't. If, God forbid, you do something wrong, you're gonna have a serious talk with other surfers. The whole thing!
– What's the etiquette?
– There are usually more people who want to surf than there are waves coming. Because of this, it is necessary, maybe unofficially, but still to stand in line. You can't just get in. Everywhere surfing has its own specifics: somewhere it is done this way, somewhere it is done another way. There are places where newbies are not allowed at all. They can, for example, smear your car with wax and sprinkle it with sand so that you don't come back. It's a whole subculture. And the sport is amazing! Especially if you go at sunset or dawn, it's very beautiful.



– Have you had any trouble with the car?
– Haha, no. But they tried to sort things out with me. Thank God, it didn't come to a fight. They say it's very funny if two surfers, sitting on boards in the water, engage in a boxing match.
– Do you run alone or with somebody?
–Sometimes I run on my own, sometimes with the kids.
– Didn't you like running at first?
– Yes, but then I got involved in that. We must be patient first. Running doesn't give you much pleasure for a month or two, but then you start to get involved. That's my experience.



– You wrote that a marathon is a great motivation. Can you explain what you mean?
– If you have set your self-identification, then you need to constantly tighten your skills. You literally draw a diagram and evaluate the current skills and see which one needs improvements this year. Long-distance running refers to the topic of willpower. And health.
The first 15-20 kilometers of the marathon is a pleasure, especially if it's a big race, where tens of thousands of people are standing along the track who support you. Somewhere at the 25th kilometer you start to feel tired. On the 35th you think: why am I torturing myself like this, never again! And then comes the 42nd, they hang a beautiful medal around your neck, give you something delicious to eat, they even can give you beer. You walk, and a pleasant fatigue runs through your body, and you think: I need to run again, right?
If you had willpower before that on a 10-point scale of 6.5, then it became 6.7 or 6.9. And then this thing will not become 6.5 again.
– You should have more than 6.9, according to the book, you finished with a ligament injury.
– It was probably one of the most incredible days of my life! I guess it's true: if I had 6.5 in willpower, it became 7.5.
I was supposed to run a marathon in 3 hours and 40 minutes, but because of the whole injury story, I was delayed. 3 hours 59 minutes – amazing! After all, I set a goal to run within 4 hours.


If you want to work at Spark, fill out an application on the project's website
Source: www.sports.ru